Movable concrete mixing station Model HZS35Y
Features:
Flexible movement, simple installation, suitable for circulation in various construction sites.
Due to the transportation Speed limit (Max. 8km/h) of the machine transfer by truck, we suggest that the construction sites are within 100km distance range.
For the whole plant transferring, a 4.2 meters length truck with loading capacity min. 2000kgs is requested.
When the mobile plant is disassembled and transferred by truck, the loading height reaches 4.2 meters.
The transferring charges of a movable plant are mainly caused from the transportation cost of the whole plant, the crane charges and the transportation costs of the cement silo.
If the movable plant is located within 100 meters away from the construction site, the produced concrete can be directly transported by a pumping system. In case the distance is more than 100 meters, the pumping system should to be placed as near as possible the construction site, and the concrete will be sent by a mixer truck to the pumping system for pumping to construction site. In that case, a 5CBM mixer truck will be requested.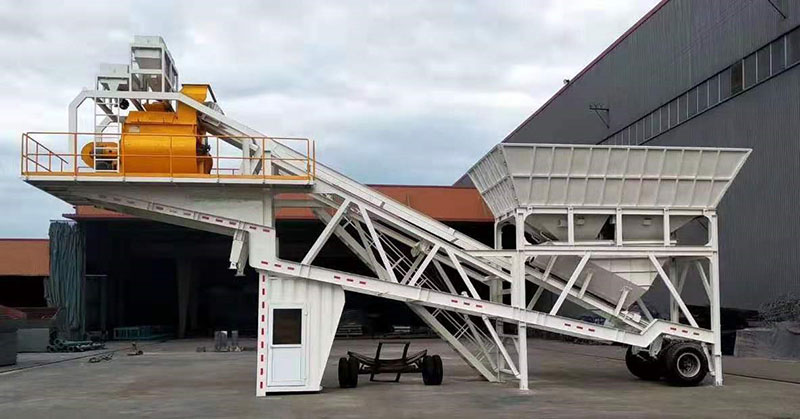 Technical Parameters
Item
Unit
HZS35Y
Theoretical productivity
m3/h
35
Actual productivity
m3/h
30
Mixer volume
m3
0.75
Mixer power capacity
kW
30
Storage bin quantity and volume
m3
2 × 2
Granular aggregate weighing range
kg
2000
Powder weighing range
kg
400
Water weighing range
kg
250
Liquid additive weighing range
kg
40
Discharging height
m
3.8
Weighing accuracy
Aggregate
%
±2
Power
±1
Water
Additives
Note: The assembled cement silo and powder spiral conveyors are in optional choice which could be customized designed based on actual demands.
Configuration list of HZS35Y
Item no.
Name of item
Main components
Model and Description
Unit
Qty
Remarks
1
Concrete batching Machine PLD1200-III
Storage bins
Single bin Volume: 2 m3
pc.
2
Weighing accuracy: ±2%
Weighing hopper
Max. 2000kg with weighing sensor
pc.
1
2
Main body of the plant
Mixer
JS750 Nominal volume: 0.75m3
Power capacity:30kW
set
1
Discharging height: 3.8m
Discharging cylinder
LZE100
pc.
2
Main steel structure
set
1
3
Powder weighing system
Powder weigher
Max. 400kg with weighing sensor
and discharging butterfly valve
set
1
Weighing accuracy: ±1%
4
Water weighing and supplying system
Water weigher
Max. 250kg with weighing sensor,
discharging water pump power capacity 1.1kW
set
1
Weighing accuracy: ±1%
Water supply pump
Power: 3kW
pc.
1
5
Liquid additive weighing and supplying system
Liquid additive weigher
Max. 40kg with weighing sensor,
discharging pump capacity 1.1kW
set
1
Weighing accuracy: ±1%
Liquid additive tank
Tank volume 2.5m3 with Pneumatic stirring device, supply pump power 1.1kW
set
1
Supply piping
set
1
6
Air system
Air compressor
Power 3kW
pc.
1
Air piping
set
1
7
Mobile chassis
Towing pin
pc.
1
Supporting feet
set
1
Indicating light
set
1
8
Control system
HZS35Y Operation table
set
1
Electric Motor powered concrete pump Model HBTS50-13-55E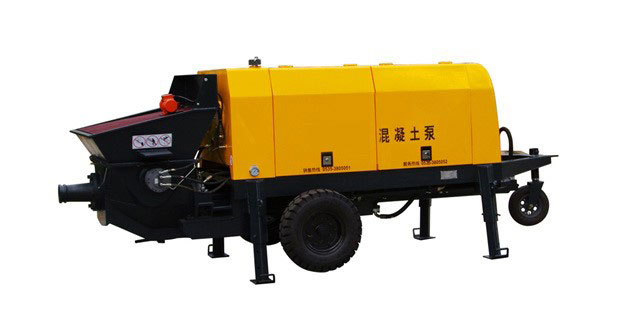 Technical Parameters
Tems
Units
Parameters
HBTS50-13-55E
Whole performance of machine
Max. theoretic concrete output (L./H.)
m3/h
46/22
Max. concrete pumping pressure (H./L.)
MPa
13/6.2
Max. Delivery distance (vertical/horizontal)
m
150/500
Distribution valve
S Valve
Concrete pumping cylinder diameter × stroke
mm
Φ180×1200
Hopper capacity × feeding height
mm
500 × 1100
Outlet diameter
mm
Φ133
Inner diameter of delivering pipe
mm
Φ108
Max. aggregate diameter
mm
Pebble: 40 ; broken stone: 35
Lubrication system
Fully automatic electric lubrication
High and low voltage conversion
Yes
Remote control
Wireless
Power system
Electrical motor model
HM2-250M-4
Rated power
kW
55
Rated speed
rpm
1480
Hydraulic system
Circuit type
Open-type system
Pumping system pressure
MPa
31
Mixing system pressure
MPa
12
Capacity of oil tank
L
320
Other parameters
Dimensions: length × width × height
mm
4300 × 1670 × 1680
Total weight
kg
3300
Main components of HBTS50-13-55E
Main oil pump:
Electric motor:
Valve group:
Press gauge:
Hydraulic rubber pipe:
Seal ring:
China

Sailite

China

Huali

China,Taiwan

Northman

China

Wuxi

Italy

Manuli

USA

Parker
Air switch:
Contactor:
PLC Units:
Intermediate relay:
Proximity switch:
Button:
French

Schneider Electric

China

Chint

Japanese

Omron

Japanese

Omron

French

Schneider Electric

French

Schneider Electric
Configuration list (The total length of Φ108 delivery pipe is 100m)
| Item No. | Name | Description | Unit | Quantity |
| --- | --- | --- | --- | --- |
| 1 | Hydraulic hose | Φ108×4m | piece | 1 |
| 2 | Soft delivering hose | Φ108×5m | piece | 1 |
| 3 | Steel pipe | Φ108×3m | piece | 27 |
| 4 | Steel pipe | Φ108×1.5m | piece | 2 |
| 5 | Reducing pipe | Φ133-Φ108m | piece | 1 |
| 6 | Elbow pipe | Φ108-90° | piece | 4 |
| 7 | Elbow pipe | Φ108-45° | piece | 2 |
| 8 | Clamp | S100 | piece | 40 |
| 9 | Clamp | S125 (High pressure) | piece | 2 |
| 10 | Sealing ring | | set | 1 |
| 11 | Piston | Φ180 | piece | 2 |
| 12 | Proximity switch | ZLJ-A18-8ANA-Q | piece | 1 |
| 13 | Remote control | Wireless 220V | piece | 1 |
| 14 | Certificate | | set | 1 |
| 15 | Tool box | | set | 1 |
| 16 | Work clothes | | piece | 2 |
Feel free for any precise technical questions